What is the Liebster Award?
The award is to recognize the blogger's work. "Liebster" is a German word meaning beloved or dearest. The Award is more about fun and building community than anything; but having guidelines to follow sure makes things cleaner and easier to understand. There are several versions of the 'rules' so feel free to follow the ones you like best ♥   Click Here To read more about the Liebster Award.
If you have been nominated for The Liebster Award AND YOU CHOOSE TO ACCEPT IT, write a blog post about the Liebster award in which you:
 Thank the person who nominated you, and post a link to them on your blog.
 Display the award on your blog — by including it in your post and/or displaying it using a "widget" or a "gadget".
Answer the questions about yourself, which will be provided to you by the person who nominated you.
 Nominate 5 blogs that you feel deserve the award, who have a less than 1000 followers.
Create a new list of questions for the nominees to answer.
 List these rules in your post.
Inform the people/blogs that you nominated that they have been nominated for the Liebster award and provide a link for them to your post so that they can learn about it (they might not have ever heard of it!)
Thank you Arlene from Arlene's Book Club for nominating me for the Liebster Award. Please check her wonderful blog!
My Q & A:
1. What is your favorite part about blogging?
I enjoy getting to know the authors and making friends with fellow bloggers
2. Which book has made a big impact on you?
Of all the books I've read, I really have to say that The Bible has made the biggest impact in my life, and continues to do so. I can read it many times over and find something new every time.
3. Which is your favorite, audio book, e-book, paperback or hardcover?
I love ALL books! Each format has it's own advantages. I read mostly e-books, because of the portability, and I can read in the dark.  Audio books are nice, for long drives. Paperbacks and Hardcovers are nice to have for adding favorites to my bookshelf collection.
4. Which author would you like to meet?

I only get to pick one?!  I'd love to join Liz Curtis Higgs on one of her Scotland tours. It would be fun to visit Scotland with Liz!
5. What are your top 3 books?

  Thorn In My Heart by: Liz Curtis Higgs
 Redeeming Love by: Francine Rivers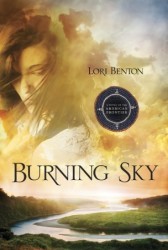 Burning Sky by: Lori Benton
6. Where is the weirdest place that you've read?
Is there a weird place to read?  I always have a book with me, and I read where ever I go. I'm able to tune out the ambient noises and focus on the book I'm reading.
7. What is your favorite children's book?

The Little Engine That Could holds special memories, as I remember my mother reading this book to me when I was little. She would read the "I think I can" slow at first and then gradually faster as the train sped up. I found myself doing the same when I read it to my son.
In elementary school my favorite was Misty of Chincoteague.  I had the old-cover edition with the white horse. I read and re-read that book. I would happily read any book with either horses or native americans.
I can't forget the Mandie Collection. Between the ones given to me as birthday gifts, and others that I borrowed from the school library, I read the entire collection, some more than once.
8. What Young Adult series is your favorite?

My favorite Author for Young Adult books is Melanie Dickerson. I've especially enjoyed her Hagenhiem series & the Regency Spies series.
9. What book would you recommend a friend to read now?
It would really depend on the friend. I like to recommend meaningful books, that I know my friends would enjoy.  Do they want a light historical story, or a historical story with lots of historical facts. Are they looking for a contemporary story that is light and fun?  Do they enjoy dual timeline stories?  If historical, what time period do they most enjoy
10. Is there a movie that you prefer over the book version?
No, I have found that I always prefer the book over the movie.
11. What sort of book covers draws you in?
I like book covers with the main character on the cover, with maybe something in the book as part of the background. I also, like to see something from the setting on the cover. (follow my pinterest board)
My Nominations:
Beth Erin @Faithfullybookish
Susan @SusanLovesBooks
Deanna @SingOverMe
Becky @ ByTheBook
Courtney @ TheGreenMockingBird
Questions for the nominees:
Aside for a love of books, what started you on this blogging journey?
What do you enjoy doing when you aren't reading & blogging?
What were your favorite book(s) as a child?
What are 3 of your current favorite books to recommend to your friends?
What book has had a lasting impact on your life?
What do you enjoy most about blogging?
What is the strangest thing you've used as a bookmark?